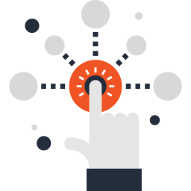 Informed data management specialist recruitment
As leading data management consultants, at Datamatic Consulting we have our finger firmly on the pulse of the Australian data management industry. So it's only natural that we're experts at finding and recruiting highly skilled database specialists and senior technical management professionals for your corporation or consulting firm.
Experienced, perceptive, discreet, professional
With our decades of experience in data management technology, we may already have several highly suitable candidates for a role you're wishing to fill. And if we don't, we'll do our utmost to find them for you. Either way, you can be assured of our discretion and skilled handling of the confidential discussions involved.
And as you know, finding the right person involves a lot more than matching keywords on resumes. We're very adept at fitting the particular technical skills and personality of a candidate to the role, and, of course the culture of your organisation. And unlike many recruitment agencies we'll never flood you with semi-suitable applicants. It's all about candidate quality rather than quantity as far as Datamatic Consulting is concerned.
We've got you covered
As you'd expect from complete data management specialists, we carry out specialist recruiting for all Australian data management positions at every level, including:
Database developers
Database administrators
Data architects
Solutions architects
Big data architects
Data analysts
Data scientists
Database designers
Business intelligence analysts
Business intelligence developers
Database managers
and many more.

Talk to the experts
If you're looking to fill any data management role, or thinking about making a move yourself, contact the professional recruiting team at Datamatic Consulting today.