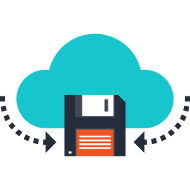 What is Software as a Service (SaaS)?
It is a software application that runs on the vendor's server and data centre instead of your own premises. This software typically runs on the cloud. Traditional software is licensed on a perpetual basis, with a one off, up-front cost. A SaaS application, on the other hand, is licensed on a subscription basis, typically based on the number of monthly or annual users.
How do you benefit from our SaaS offering?
We use an application framework that allows us to quickly build a customized application with in-built reporting and data integration capability. We can provide cost effective software solutions for any industry or business of any size, whether you have one application and one user, or thousands. contact us now for a quick prototype demonstration.
What are the security features of our framework?
Many of our customers who are new to SaaS come to us with this important question: what are the security features? The application framework we use is also employed by countless military agencies and classified agencies around the world. The security features that we can implement for your customized application development include:
LDAP authentication
Single sign-on
Database authentication
SSL encryption
Ability to provide restricted access based on the user and/or group
Two-step authentication which sends a unique code to users via SMS message
You will also benefit from our enterprise grade infrastructure, which offers the highest level of security.
How do we protect your data?
In the SaaS model, the application provider owns the application and the client owns the data. Our application framework allows our clients to download/back-up their data at any time. We are also happy to engage with any external data escrow service provider, which will ensure that your data remains available in any unforeseen circumstances.
Outsourcing vs. Insourcing
Are you outsourcing customized software development to reduce your costs? Our solution gives you more control and costs even less than outsourcing. Our application framework is so simple and intuitive that you will find it easy to modify and maintain your customized software application. Here is a quick glance at what we offer:
Military grade software security
Data protection via escrow service and self back-up facility
Compatibility with mobile devices
Self serving reporting facility which can be downloaded in PDF, CSV, XLS and HTML format
Ability to use built in data analytics on your raw data
Create various types of charts with the drag and drop feature
If you'd like to know more about our SaaS service contact us today or call us on +61 2 9126 8965
Case Study –Healthcare Industry-based Small Business Implements SaaS
This client was looking for a customised application for patient membership. In particular, they were in need of an application that could perform third party data integration, data analysis and reporting.
Goals
Create database and design user interface to capture data
Regularly upload third party data into new application
Perform extensive data analysis
Carry out various business reporting on this data
Manage user-based access
Secure online access with SSL encryption
Challenges
Prior to adopting SaaS, this client was using Excel spreadsheet software for data storage, calculation and analysis. This posed a few challenges:
Changes in one spreadsheet forced changes in several other sheets
The volume of data was unmanageable within the spreadsheet
It was difficult to view all the relevant data on one screen
Read more
Save money, time and considerable hassles
Here's how our Software as a service model works:
We develop cloud database applications for your business needs.
You and your customers start using the application. You don't need to buy any software licences or lease any expensive infrastructure.
You own the data; we own the software. You only pay rent for your actual software usage. There are no long term contracts – you simply need to give us one month's notice to stop using the service.
Your business data is regularly backed up and stored at our cloud based data centre. You can take a self service data extract within your application, or we can even provide you with physical backup of your data.
If for any reason you no longer need to use our service, we provide you with all your backed up data.
What else is in it for you?
Our advanced cloud database service model gives you customised application with the following features:
Secure online access (with SSL encryption – ie HTTPS), plus ability to provide restricted access based on the user and/or group
Compatibility with mobile devices . Users get powerful functionality and insight, optimised for their specific device
Self serving reporting facility which can be downloaded in PDF, CSV, XLS and HTML format from cross platform (Windows or Mac)
Ability to use built in data analytics on your raw data
You can create various types of charts with the drag and drop feature
Still not sure if our software as a service is right for you? Use the flowchart below to help make up your mind: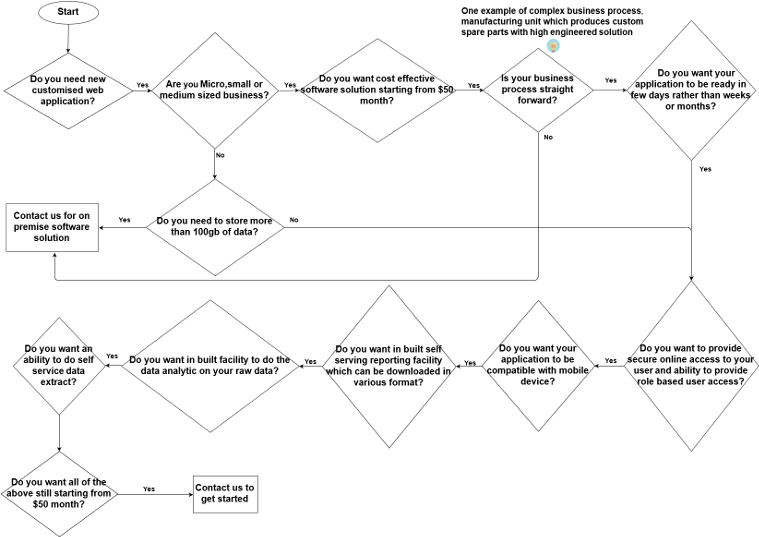 Want to know more?
If you've got questions about any of our services, we'd love to hear from you. And for stress free, streamlined data mining, analysis, integration and migration, contact the professionals at Datamatic Consulting today. Or call us on +61 2 9126 8965.