Comprehensive data management training
At Datamatic Consulting we love teaching data management technology and concepts. That's why we hold our popular training classes at centres throughout Australia. Or, if you prefer, we can come to you. We provide expert, interactive training in all data management technology. Choose from our set subjects, or customise the courses to suit your specific business or role-based needs.

"Tell me and I forget, teach me and I may remember, involve me and I learn."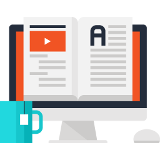 Enjoy our active learning approach
All our trainers hold certification in their specialisation and typically have at least 10 years of practical experience. They know just how technically minded people tick, and are highly skilled at capturing the attention and enthusiasm of trainees with their proven interactive teaching techniques.
Wide choice of data management training topics
Oracle

Oracle Real Application Clusters RAC Tuning
Oracle DBA Training – Database Administration & Management
Oracle Performance Tuning
Oracle 11g Real Application Clusters RAC Training
Advanced Oracle SQL Tuning
Oracle RMAN Backup & Recovery Training
Oracle Snapshot Replication & Streams Training
Oracle Data Guard Training
Oracle Data Warehouse Management
UNIX Oracle Administration
Linux Oracle Administration Training Course
Object Oriented Technology for Oracle
Oracle Features, Administration & Tuning
Oracle DBA Advanced Internals
Oracle 12c New Features Training Course
Upgrading to Oracle 12c training class
Oracle 12c New Features training in Oracle12c
Oracle SQL Tuning Training Course for the Developer
PL/SQL Performance Tuning Training Course – New!
Oracle Application Express (APEX)
Oracle Service Oriented Architecture (SOA) Business Process Execution Language (BPEL) Training Course
Getting started with Oracle SQL
Oracle XML Developer Training Course
Beginner Oracle SQL and PL/SQL Training course
Oracle SQL Programming & Tuning
Java & Oracle Fundamentals
Oracle JDeveloper Java J2EE Training
Oracle Developer 9i Forms
Oracle Developer Reports
Advanced Oracle Developer Forms & Reports
Oracle Developer Forms Troubleshooting & Debugging
Oracle BI 11g R1: Create Analyses and Dashboards
Oracle BI 11g R1: Create Analyses & Dashboards for End Users
Oracle BI 11g: New Features and Exalytics
Oracle BI 11g R1: Build Repositories
Oracle BI 11g: Overview

MS SQL server
Coming soon
MySQL
Introduction to SQL Training using MySQL
Advanced MySQL Queries
MySQL Development Training
MySQL Administration Training
MySQL Development and Administration Training
Talk to us first
Whatever your data management training needs and wherever you are in Australia, get in touch with the friendly experts at Datamatic Consulting today. Or call us on +61 2 9126 8965
We regret that our database training is currently only available in Australia.